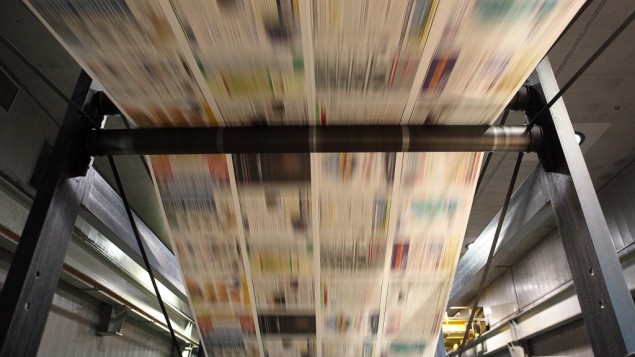 Steffen Print & Design maintains several different types of presses so that we can offer different types of printing at the best price to the customer. Some of our most competitive prices are on our newspapers produced on our Goss press similar to the one show here.
Goss = Newspapers
This web press prints tabloid size paper (11″x17″) or smaller, on newsprint.Typical page counts on the Goss are multiples of 4 with the largest single section up to 24 pages. Printing is typically black (although it can be any single color) on all pages and it will handle full CMYK color on the front, back and centerfold pages.
If the newspaper is more than 24 pages it can be divided into two or more sections similar to the New York Times or USA Today.
This way, 4, 8, 12, 16, 20 or 24 page sections can be combined (usually as equally as possible) allowing for nearly unlimited total page counts of 40, 44, 48 or even three or four sections for 60, 64, or 72 pages with full color available to you on the fronts, backs and centerfolds of each section.
Miller = Booklets and Brochures
We have two Miller presses, a 4 color and 1 color, both capable of printing large single sheets of paper containing up to 8 pages at 8-1/2″x11″ plus full bleed on each side the paper. The larger of the two presses can print a full-color booklet (all 4 CMYK colors) in a single pass through the press simultaneously.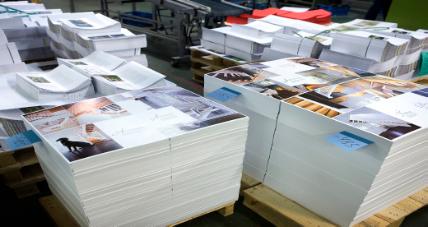 AB Dick = Forms
This small press is suitable for letterhead, NCR forms and other single-color, small format jobs.